Special offers of this week
[recent_products per_page="12″ columns="4″ orderby="date" order="desc"]

Asian food style & ingredients
The cuisine of Kerala
 is linked in all its richness to the history, geography, demography and culture of the land. Kerala cuisine has a multitude of both vegetarian and non-vegetarian dishes prepared using fish, poultry and red meat.
Mango Pickle
This video shows how to cook Mango pickle, a Kerala vegetarian side dish. Any true-blue Malayali can say manga achar – that's mango pickle – without a feeling of overwhelming desire washing over him. The combination of spiciness, saltiness and sourness of this pickle is delightful.
Sadya is the traditional vegetarian feast of Kerala. Usually served as lunch, it consists of par boiled pink rice, side dishes, savouries, pickles and desserts spread out on a plantain leaf. Tradition insists that the tapering end of the leaf points to the left of the seated guest. Rice is served on the lower half of the leaf.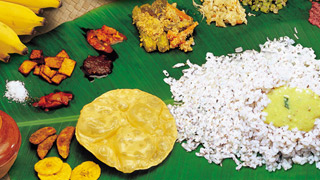 Kappa Puttu or Tapioca Puttu
Method of preparation Boil some water in a pressure cooker. Now mix the grated tapioca with puttu podi (rice flour) by adding salt. No need to add water. After mixing, keep the contents aside. When the pressure cooker starts letting out steam, place the puttu maker on top of the pressure cooker; fully covering the outlet of the steam nozzle. First put some grated coconut into the puttu maker and on top of it add some puttu podi (rice-flour) – kappa (tapioca) flour mixture. Allow the steam to cook for about three minutes. Now remove the puttu-maker from the top of the cooker. Serve hot. Relish your Kappa Puttu ideally with fish curry or chicken curry.

Ada Pradhaman
method of preparation Parboil the ada and drain the water thoroughly. Make syrup with jaggery, water and strain through a muslin cloth. Add the ada to the syrup and cook it well. Add the coconut milk, cardamom powder and just heat but do not boil. Finish with fried sultanas, cashew nuts and coconut.
Kappa & Meen Mulakittathu
Method of preparation
Clean tapioca and dice. Wash thoroughly and boil in water. Drain off excess water from cooked tapioca. Add salt, ground coconut, green chilly and turmeric. For tempering, heat, oil and crackle mustard seeds, brown small onion slices and curry leaves. Put these over the stirred tapioca and serve hot.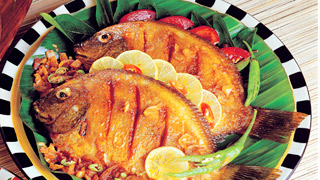 Do you like to any of these special dishes ?
[huge_it_slider id="2″]
we are happy to help to make these mouth watering dishes in your sweet home. just visit our  Asian foods & day today shop or Shop Online