Pavizham Matta Rice – 10Kg Bag
healthier diet…since 1990
Innovative ideas, uncompromising stand on quality, a humanistic approach based on health values has over the years seen the various units flourishing and prospering. Modern milling machineries imported from China, a co-gen power plant, a waste water treatment plant based on CSIR technology make the mills unique.
Asian food style & ingredients
The cuisine of Kerala
is linked in all its richness to the history, geography, demography and culture of the land. Kerala cuisine has a multitude of both vegetarian and non-vegetarian dishes prepared using fish, poultry and red meat.
Mango Pickle
This video shows how to cook Mango pickle, a Kerala vegetarian side dish. Any true-blue Malayali can say manga achar – that's mango pickle – without a feeling of overwhelming desire washing over him. The combination of spiciness, saltiness and sourness of this pickle is delightful.
Sadya is the traditional vegetarian feast of Kerala. Usually served as lunch, it consists of par boiled pink rice, side dishes, savouries, pickles and desserts spread out on a plantain leaf. Tradition insists that the tapering end of the leaf points to the left of the seated guest. Rice is served on the lower half of the leaf.
Kappa & Meen Mulakittathu
Method of preparation
Clean tapioca and dice. Wash thoroughly and boil in water. Drain off excess water from cooked tapioca. Add salt, ground coconut, green chilly and turmeric. For tempering, heat, oil and crackle mustard seeds, brown small onion slices and curry leaves. Put these over the stirred tapioca and serve hot.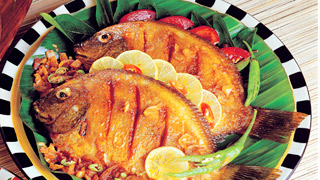 Do you like to any of these special dishes ? we are happy to help to make these mouth watering dishes in your sweet home.